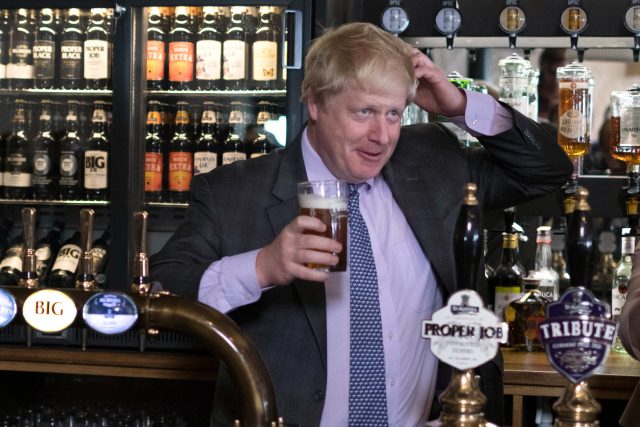 Boris Johnson has been described as "out of touch" for discussing the export of Scotch whisky during a visit to a Sikh temple.
Seemingly unaware that the drinking of alcohol is forbidden under many Sikh teachings, the Foreign Secretary told the 50-strong crowd that he was going to sign a free trade deal in order to boost the trade in whisky.
It was then that a woman, according to reports from Bristol, who has been identified as Balbir Kaur, apparently upset with the comment questioned how dare John talked about alcohol in a Sikh temple. But imagine what we could do if there was a free trade deal with India - which there will be.
'We have to bring Johnnie Walker, we have to bring whisky because as you may know there is a duty of 150% in India on imports of Scotch whisky so we have to bring it in duty free for our relatives.
He replies: "I understand your point of view".
"In front of the Gurdwara to talk about and promote alcohol is offensive, he not have been stood there talking about that, he should have known that".
The Daily Telegraph reported the woman later said she found Johnson's address disrespectful.
Johnson, whose wife is half Sikh, started off by talking about how when Indians or Indian-origin citizens in the United Kingdom fly to India, they have to bring duty-free alcohol for their relatives from shops at airports.
Speaking after the incident on Wednesday evening, the grandmother said: "How can Boris Johnson help the Sikhs?
Inheritance is not an issue - alcohol is", the woman said, angrily. It is not, though, the view of every religion.
Mr Johnson was at the Nirman Sewak Jatha temple in St George, Bristol, to show his support for the party's Bristol East parliamentary candidate Theo Clarke. "I'm a practising Sikh and to me that is completely outrageous", she said, adding: "It's causing a lot of problems at the moment".
"I do think it is relevant to our considerations that whisky is a huge business in this country and a free trade deal with India would be of great value".
A spokesperson for Johnson said: "One lady expressed her views based on a personal situation but the other 30 attendees warmly welcomed his remarks".
Sikh Federation (UK) General Secretary Bhai Narinderjit Singh also criticized the former London mayor's comments, while challenging the Brexiteer to introduce an independent public inquiry into the Sikh Genocide of 1984 - a topic that is featured in Labour's election manifesto.
"It is a requirement that Sikhs should not consume any intoxicants".
Boris Johnson was reprimanded on a visit to a gurdwara in Bristol for talking about alcohol in the sacred building. "The temple regulars loved him being there".