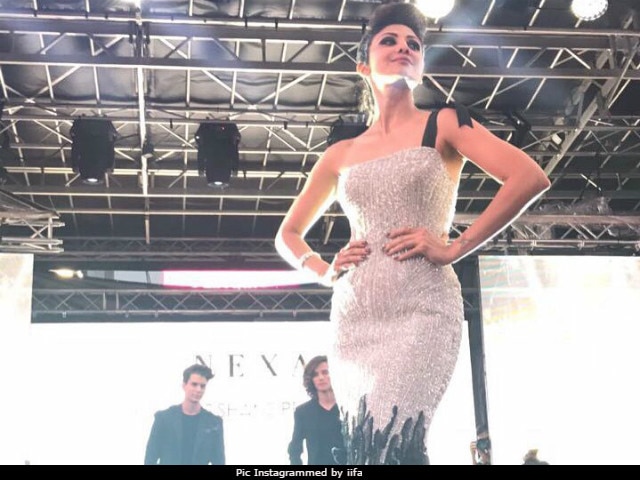 We told you that Shahid Kapoor won the Best Actor Award for his stellar act in Udta Punjab, but that didn't go down well with Sushant Singh Rajput, who sent out a sarcastic tweet after the announcement.
Saif Ali Khan, Karan Johar and Varun Dhawan has hosts of IIFA 2017 made quite a few jokes about the film industry and yes Kangana Ranaut wasn't spared too.As the trio took a dig at the Queen of Bollywood at IIFA stage in NY. The trio then together cheered, "Nepotism Rocks".
The tiff began earlier this year when Kangana was lauded for calling out the apathy of Bollywood directors and producers (including Karan) towards newcomers like her on Karan's celebrity talk show Koffee with Karan. It was a amusing moment as the three of them are a product of nepotism and joked about being one. The latter was invited on stage to receive his award for the Best Actor in a Comic Role category for Dishoom and Saif couldn't stop himself from passing a snide comment on nepotism. Many took to social media to point out that the boorish exchange at IIFA proved Kangana's point - that nepotism is alive and thriving. That didn't end there.
And as if this wasn't enough, Varun referred to the song 'Bole chudiyan, bole kangana...' from Karan's film Kabhi Khushi Kabhie Gham. To Varun's surprise, Karan immediately said a big No. Karan insisted that he would talk about it later after the function. Ouch! That was quite an open dig at Kangana. Blogger Nived Nambiar on Apurva's post wrote, "As much as I am against Kangana stealing the rights of writer, her nepotism statement is real & we can see that".
Karan and Saif were hosting the event and they brought up the issue yet again, though in a tongue in cheek manner.
This year, the IIFA 2017 which was held in NY, saw a bevy of B-town A-listers, Gen Y superstars and many actors making grand entrances.